A Few of Our Network Partners
Ready to start advertising on our network? Creating your sponsored campaigns is fast and easy and takes less than 2 minutes!
Publishers
Engage your audience and monetize your websites traffic with sponsored ads by Sponsortag.com
Publisher Benefits
Earn more revenue from your ad inventory by showing sponsored PPC, CPM and CPA ads from our ad network.
Display Ads
Attract your visitors attention by showing display advertisements that fit well on your web pages and target your specific audience. We offer standard IAB ad formats including: Text, Image, Rich Media, Pop ups.
Mobile Ads
Earn extra revenue with sponsored ads that target mobile users only. IAB ad units: Standard IAB image and text units, MRAID ads, IAB Mobile Raising Stars.
Ad Tags
Sponsored ads served from our network are based on the Cost-per-Click (CPC), Cost-per-Impression (CPM) and Cost-per-Action (CPA) pricing models.
Payouts
Get paid on-time, every time! We pay our publishers on NET30 terms after reaching the minimum payout amount of USD $20 through PayPal.
Passback tags
Optimize your ad inventory monetization with passback tags. Passback tags or alternate tags are ad tags you provide to us in case Sponsortag ads are not available at your specific floor price. Sponsortag will serve your alternate tags to your audience in the event no advertiser ads are available for the minimum floor price you set.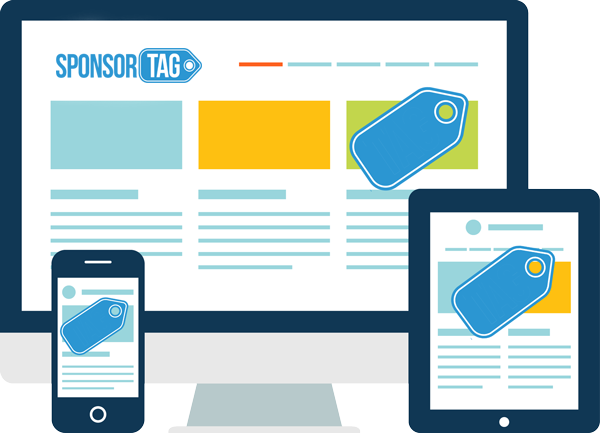 Contact Us
Get in touch
Have any questions or general inquiries? Get in touch with us by using the contact form or email us directly at one of our email addresses below.
---
Send us a Postcard or Email
---